CrossFit Old Fashion, Persistence Athletics – Workout of the Day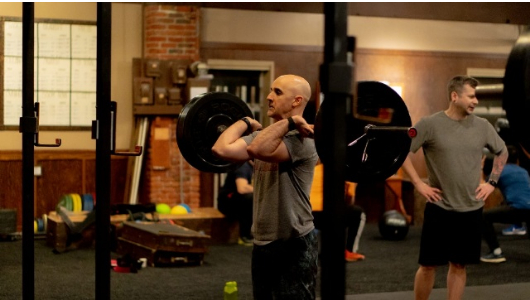 "Don't raise your voice, improve your argument."
Warm-up
AMRAP 10:

250-m row

5 inchworm + a push-up

10 overhead squats with a PVC

15 Ab-mat Sit ups

20 PVC Pass Through
Specific Warm-up
Ring dip

2 sets of: 10-second ring support + 3-second negative + 3-second hold in bottom of dip (*scale to feet on the ground)

10 jumping ring dips

5 strict ring rips
Kipping ring dip drill (@estradaflyes)

2 sets of 5 reps per leg:

• Start at the bottom of the ring dip with the kipping leg straight and slightly behind the rings.

• To initiate the kip, drive the heel to the butt and at the same time, press out of the rings to extension.

• The legs have to be straight at the bottom of the dip in order to find timing and coordination.
5 kipping ring dips
Power clean

Perform 2 rounds of 5 reps each. Use an empty barbell in the first round, and use a barbell with light bumper plates in the second:

Deadlift + shrug

Deadlift + high pull

Hang power clean

Power clean
Workout of the Day
Metcon (Time)
Elizabeth
21-15-9 reps for time of:
Cleans

Ring dips
♀ 95 lb. ♂ 135 lb.
Scaling Option:

21-15-9 reps for time of:
Cleans

Bench dips
Cooldown
Coaches Choice